Three wavelength hair removal micro channel diode laser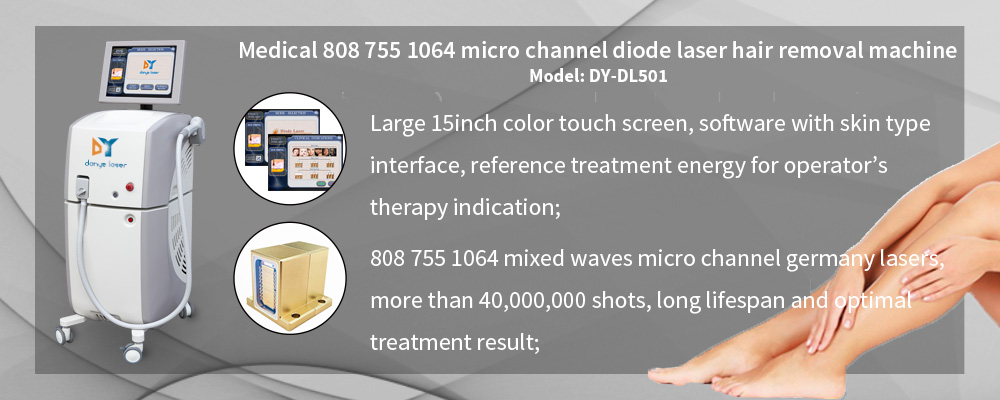 Theory
The system uses the optimal hair removal wavelength of 755 808 1064nm diode for deep penetration into the dermis where the hair follicle is located. In treatment procedure, a series of low fluence, high repetition pulses increases the temperature of both the hair follicle and the surrounding, nourishing tissue to 45 degree Celsius. This more gradual heat delivery uses the chromophores into the surround tissue as reservoirs to effectively heat up the hair follicle. This, along with the heat energy absorbed directly by the hair follicle, damages the follicle and prevents re-growth.
808nm diode laser machine is particularly effective to hair follicle melanocytes without injury surrounding tissue.The laser light can be absorbed by hair shaft and hair follicles in the melanin, and converted into heat, thus increasing the hair follicle temperature. When the temperature raises high enough to irreversibly damage the hair follicle structure, which disappear after a period of natural physiological processes of hair follicles and thus achieve the purpose of permanent hair removal.
Function
1.All kind of hair removal on body (hair on face, around lip area, beard, underarm, hair on arms, legs, breast and bikini area)
2.laser skin rejuvenation
 
Treatment Effect

Advantage
Expert team with more than 15 years of skill and experience in beauty field, focus on creating high quality of machine and offering perfect after sales service for customers, continuously develop new products to meet market demand; OEM and ODM service.
If you have any questions, please do not hesitate
We will have the most professional
customer service staff to answer your questions
---
---
Write your message here and send it to us
Products categories